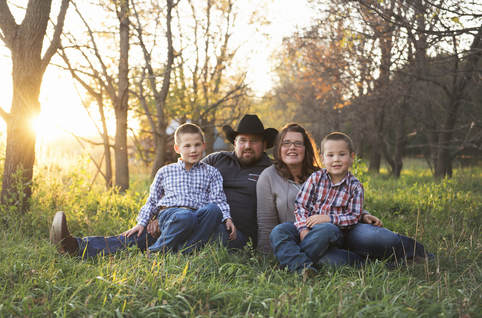 Welcome to Seevers Angus.

Cattle ranching and farming runs deep in the blood of our family. My family has farmed in Custer County since 1883 when my Great Great Grandfather homesteaded 8 miles west of Merna. Then in 1947, my Great Granddad purchased the farm where we live now, located 1 1/2 miles south of Anselmo, NE. My Great Granddad, my grandpa and my dad all farmed and ranched here, and now we are blessed enough to raise our two boys here, farming and ranching. Our boys are Tatum and Tilden.

In 1994 began my cattle herd with one cow, in high school I was then able to purchase some more cows from my great aunt. After attending college at NCTA in Curtis, NE I went to work at The Fred Ranch in Rose, NE. Working at The Fred Ranch heightened my interests and desire to be a part of the Angus Industry. In early 2005, when I left The Fred Ranch, I knew I wasn't done with the Angus Breed, but I also knew I had a lot to learn about the commercial industry first, to help me raise better purebred bulls.

The year of 2007 was a big one, with purchasing of the commercial cattle herd from my parents in the spring and marrying my wife the day after I finished AIing for the year. June of 2007 is when Tabbi (Ropers) and I were married at Victoria Springs State Park. We began our lives together living in Anselmo. My wife also brings cattle sense to our operation as she grew up helping on her grandparents cattle and dairy operation southwest of Sargent. Let's just say, cattle, 4-H and the county fair brought us together.

In the spring of 2008 we bought our first registered Angus Heifer. The summer of 2009 brought the excitement of becoming parents with the birth of our oldest son Tatum. Over the next couple years as our family grew and we ran our commercial operation the passion for growing our registered herd continued. In the spring of 2012 with the birth of our second son Tilden we also decided if we were going to raise Angus we needed to start investing everything we could to build a foundation for our Angus future. We bought two donor cows and 10 registered heifers from The Fred Ranch and put in 35 embryos from the two donors in our Sim-Angus cows. In the spring of 2013 we had our first calves and had the opportunity to purchase some registered Angus Pairs, also from The Fred Ranch. 2013 also provided the opportunity to purchase embryos of Schaff Angus Valley Breeding and place into our commercial recip cows. In the spring of 2014 we will have the most exciting calf crop in our young career of raising Angus Cattle. The first exciting crop embryo calves are weaned and in the lots being fed. And the 2015 calving season is just beginning.

Seevers Angus is in the business to offer cattle that will be able to work from the high plains to the feed rich valleys of the corn belt. We want bulls that sire calves that are profitable in a feedlot setting yet produce females that are fertile and easy fleshing, with great maternal characteristics.

We invite you to join us for our sale, Wednesday, February 7th, 2018 at Burwell Livestock Market in Burwell, NE at 1:00 PM .








---